"Sometimes a cigar is just a cigar," the old Freudian adage goes, but this is not the case for NYC-based artist James Evans, who translates the human experience onto photorealistic oil paintings of inanimate objects and closely-cropped body parts. Largely informed by graphic design and literature, Evans' diverse body of work features crushed beer cans, used ketchup packets and carefully-planned collages. He places a strong emphasis on text throughout his work as well, using phrases such as "Weird Here" or "Consequences" laid on top of juxtaposing images to offer a unique dialogue that goes beyond their visual representation. With the bustling streets of Manhattan serving as a constant inspiration, the ever-observant Evans continues to interpret real-life situations onto stretched canvasses.
We sat down with James Evans to discuss his eclectic inspirations, creative process, and past artist-collaborations with the likes of Opening Ceremony, Milk and more. Read on to learn about James Evans with exclusive behind-the-scenes snaps below.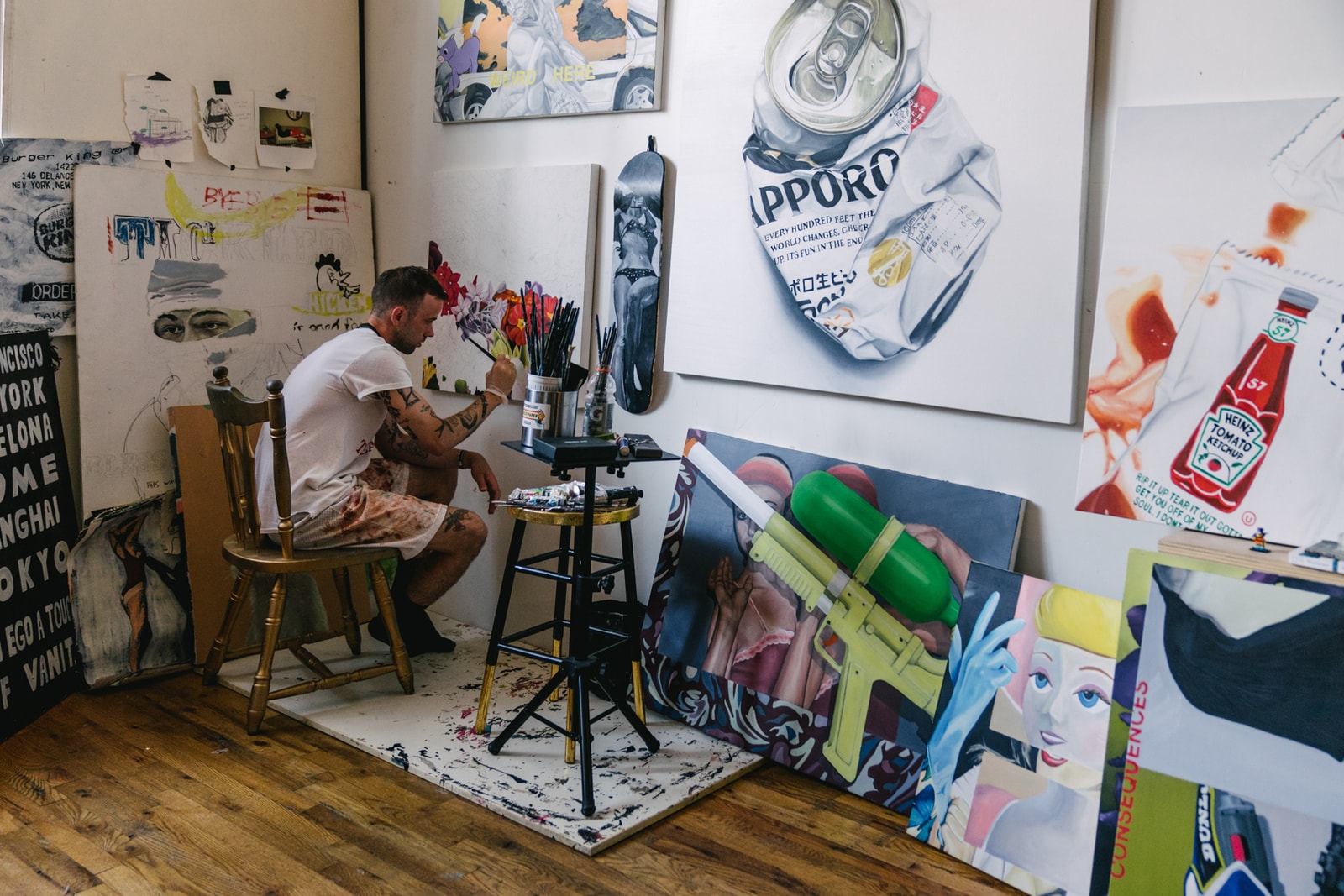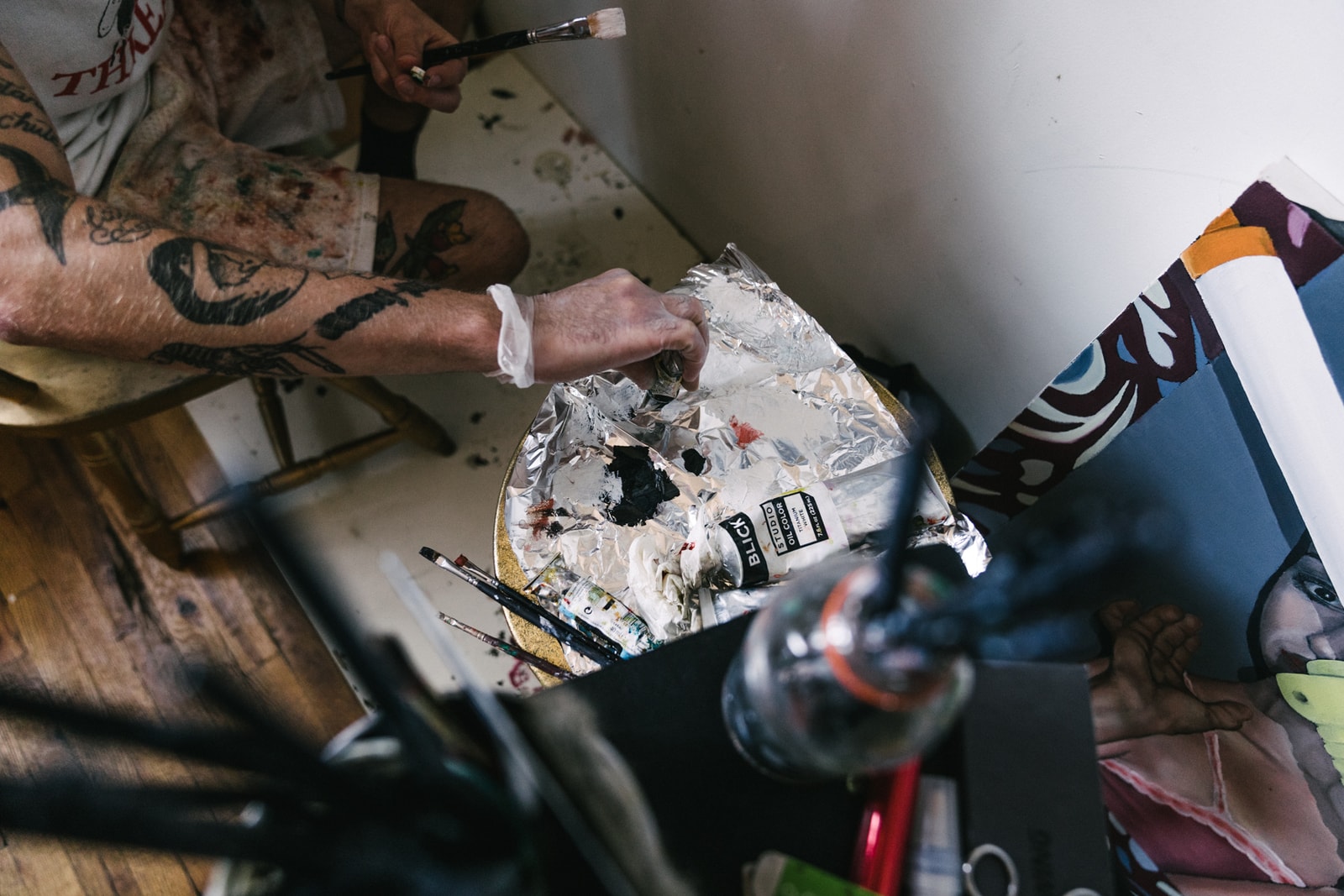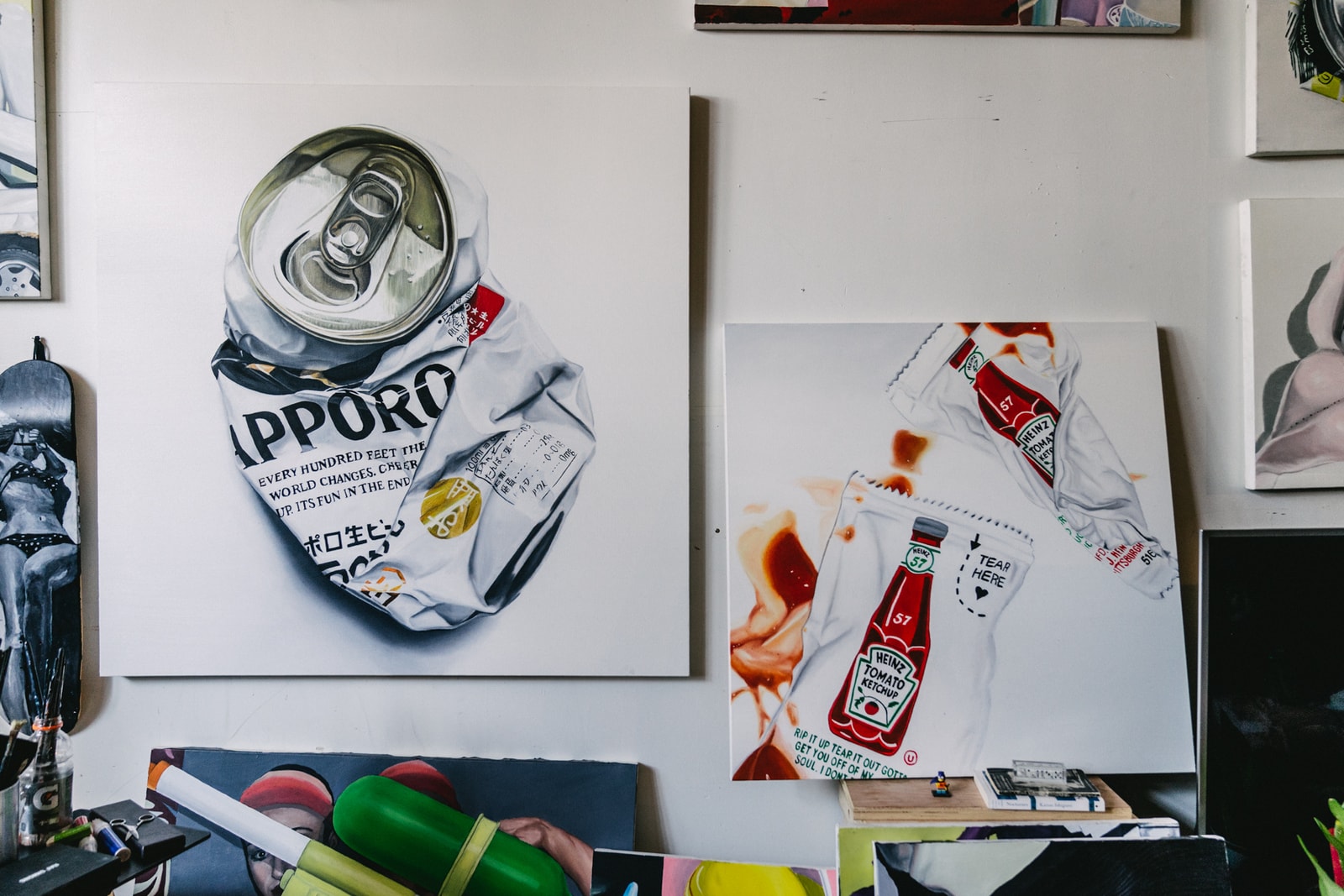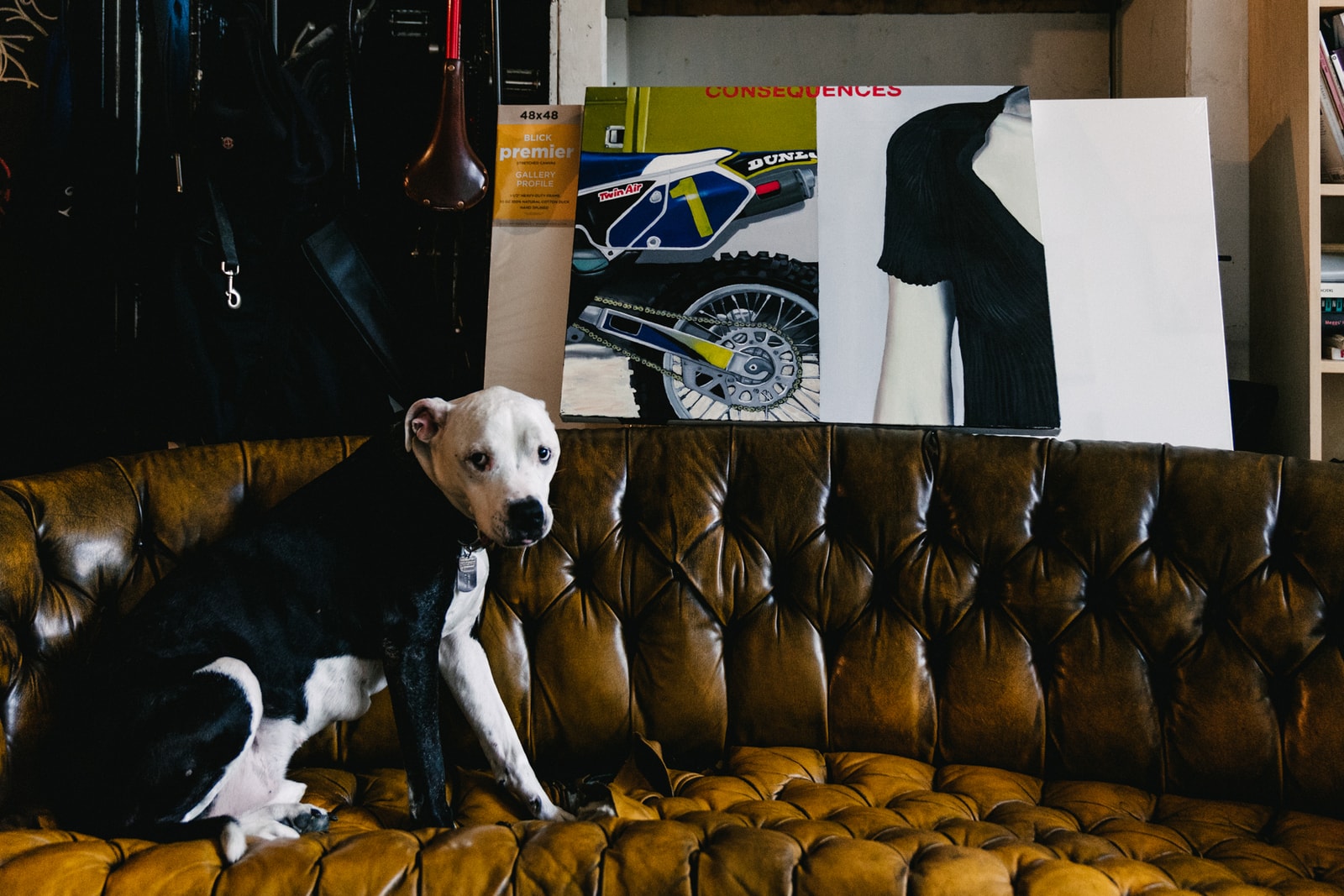 "I never went to school for art, but I've managed to teach myself by doing things in strange ways and just learning what works and what doesn't."
When did you decide to devote yourself to a career in visual art?
I've always been interested in art but didn't really know what I wanted to do. I did design for a few clothing brands, messed around with illustration, worked on some random projects. When I moved to New York I was sick of staring at a computer screen so I decided to give painting a shot. I had no clue what I was doing but immediately loved it; it was refreshing to be able to feel the paint, to smell it, to see something develop on paper. I would literally just sit there and paint circles and squares in primary colors, try to figure out the basic steps for how things worked. At some point, I realized that art helped me work through shit, that it took me out of my own head. Once I realized this, it was all I wanted to do.
Tell us about your style. How has it evolved when you first started?I used to do everything in a really flat style. I remember being obsessed with Geoff Mcfetridge and always wanting to simplify an image down to a series of basic shapes and colors. For a while, I only worked in acrylic and it was all vector based, everything was just an extension of my job as an illustrator.
At the time I wasn't really painting much on canvas, I was super broke and there were always cool materials and things laying around our building so I just used what I could find. I probably would've kept painting in the same flat style but one day I tried painting on this broken TV that my roommates had been fucking with the night before. I painted a girl with lots of negative space and used the busted up black screen as a background for shading. It was crude but also eye-opening because that was the first time I messed around with depth. For a while after that, I painted all my canvases black before adding an image on top, going about them the exact same way. I had no clue what I was doing but it helped me to understand form and perspective. I never went to school for art, but I've managed to teach myself by doing things in strange ways and just learning what works and what doesn't.
This process evolved and eventually, I switched over to oils which changed everything; the colors come together more naturally, the images make more sense to me.
Current influences?As far as influence goes I try not to get too focused on other painters, I don't want to start imitating them and that can happen really easily. That being said, some of my favorites that come to mind are Phil Hale, Richard Estes, Clyfford Still. There are a ton of photographers I love too, I come back to people like Philip Lorca Dicorcia or Wolfgang Tillmans a lot. I saw an Izumi Miyazaki exhibit in Kyoto not that long ago as well and was blown away.
"I like that you can give something a new meaning, a new context with text."
Typography/text is well-observed in your works. Where does the inspiration stem from?
I went to school for creative writing, I still spend a lot of free time writing/reading, I've actually been tinkering with a novel for over a year now. Authors like George Saunders or David Foster Wallace have been just as important in shaping what I try to say as any visual artist.  What draws me to certain series, like the can one for example, is that by changing the text I can make a narrative around what is otherwise just a piece of trash. An empty beer can might have been a part of a fun night, a conversation, etc., but its purpose ends when the night is over, there's no reason for it to still be around, much less to be painted on canvas. I like that you can give something a new meaning, a new context with text.
A lot of times I'll also leave big text portions blank until the very end. I did these ketchup packets recently and knew what I wanted for the bottom text but must have painted five different phrases on the "tear here" part, nothing was working for me. After a conversation with a buddy, it dawned on me that "tear-here" was actually exactly what I wanted it to say. It spoke to something going on in my life and something I was hoping to express. It's weird, other times I'll get words or phrases stuck in my head and want to paint something just so I can get them on canvas.
You've had a fair share of artist collaborations. How do you decide on the brands to collaborate with?When I moved to New York I was working in fashion, doing design for a few streetwear brands, bouncing around shops. I worked for a while at places like Opening Ceremony and Milk, those were both awesome environments to kick around ideas and meet people. For the most part, these sorts of collaborations came directly out of those relationships.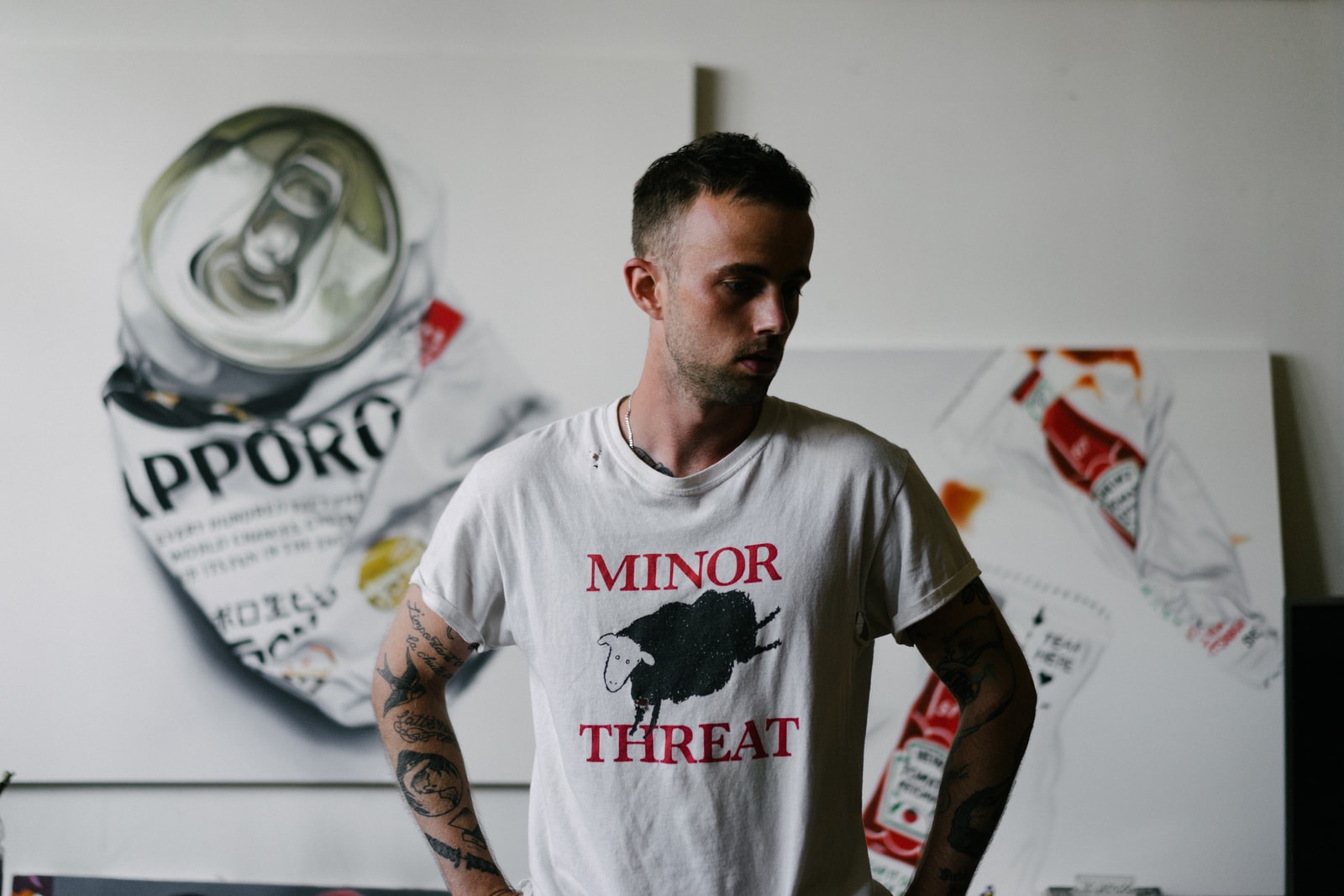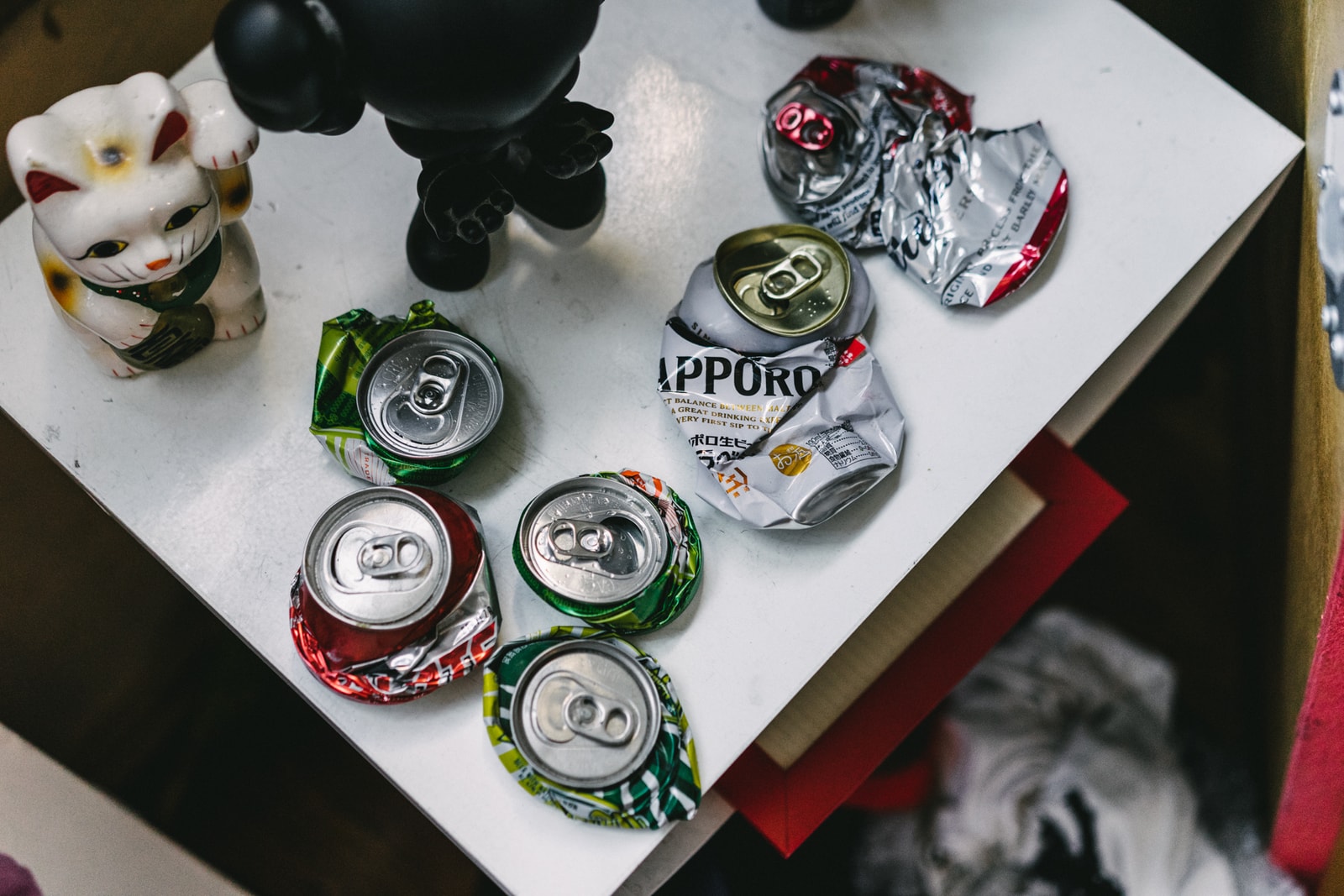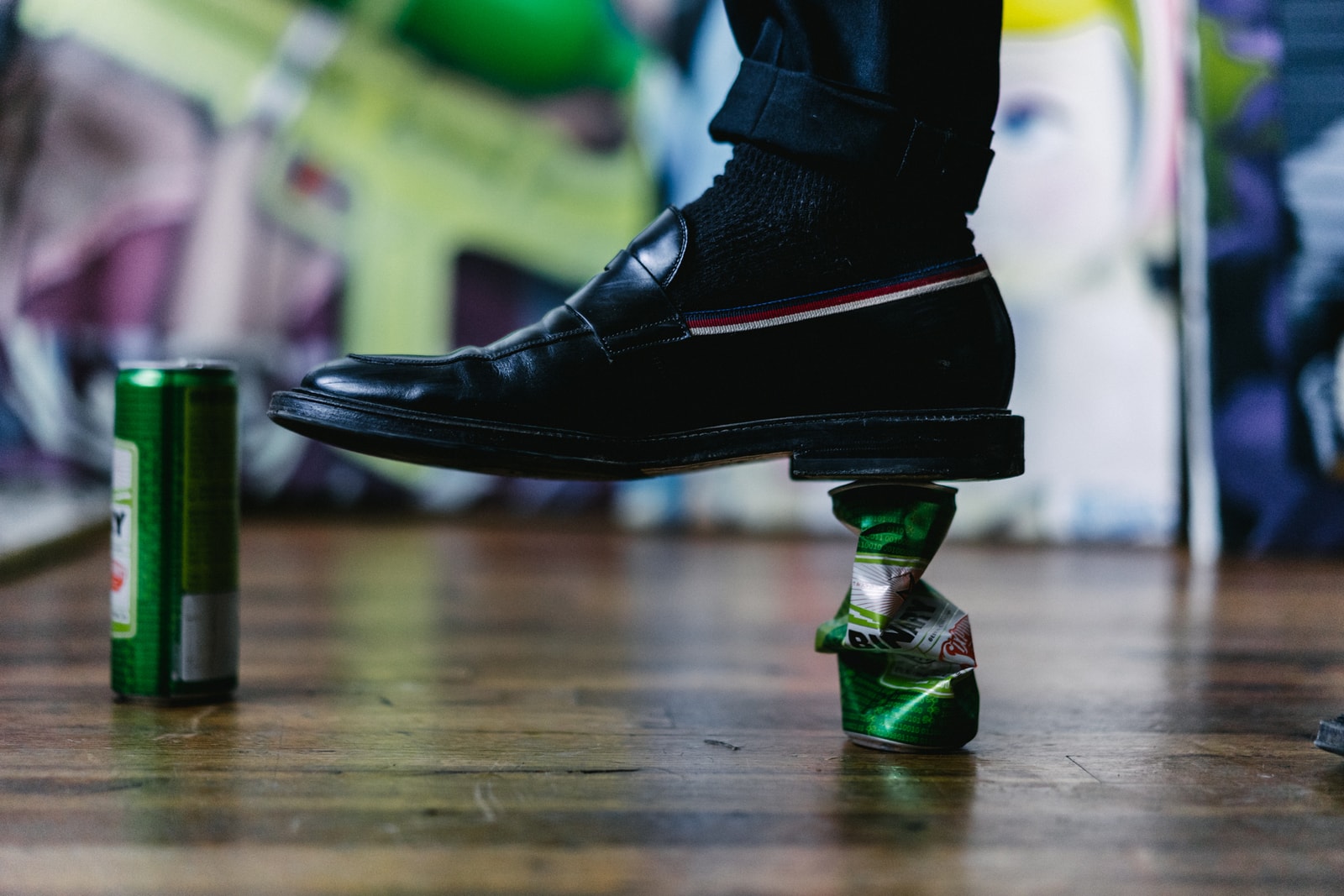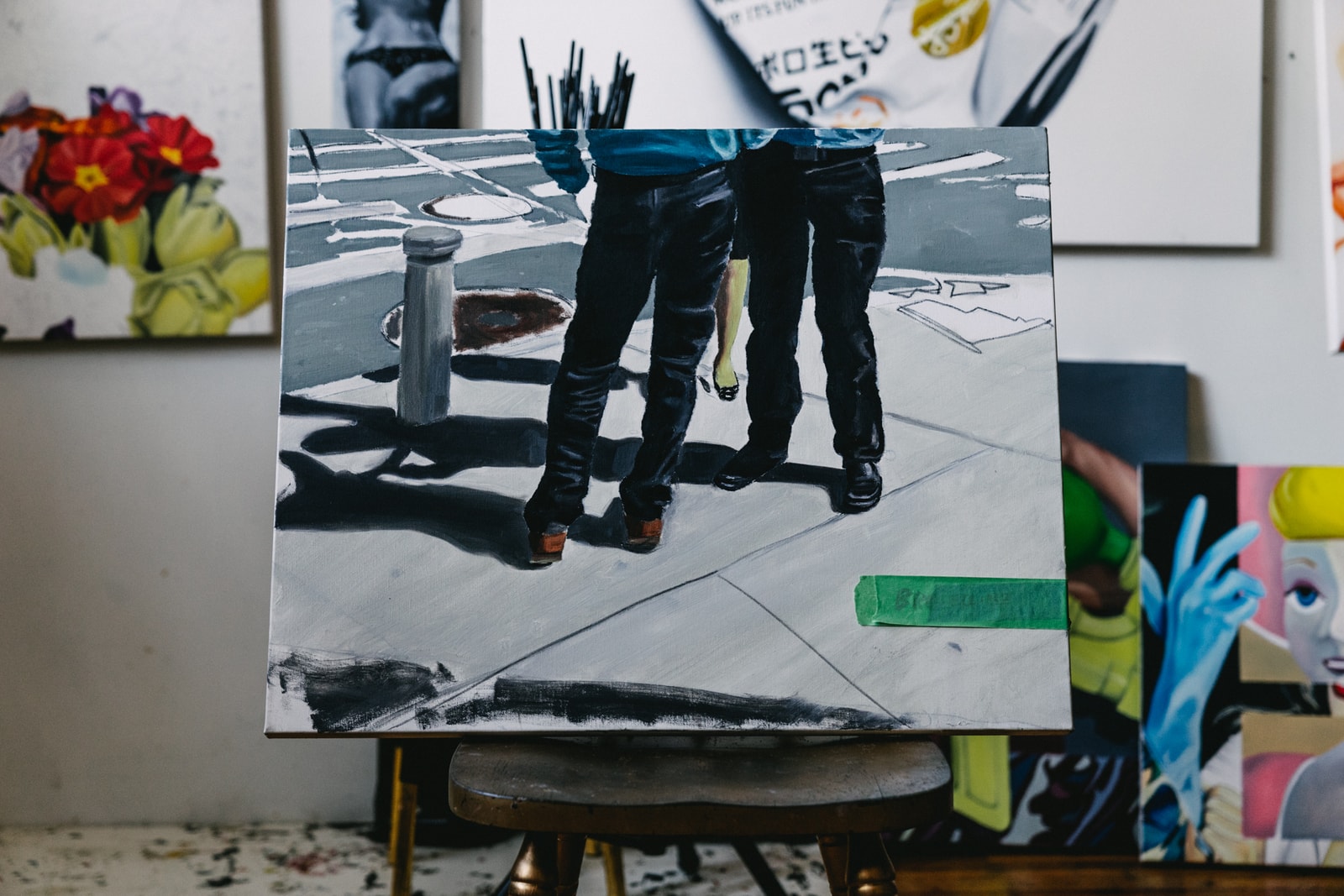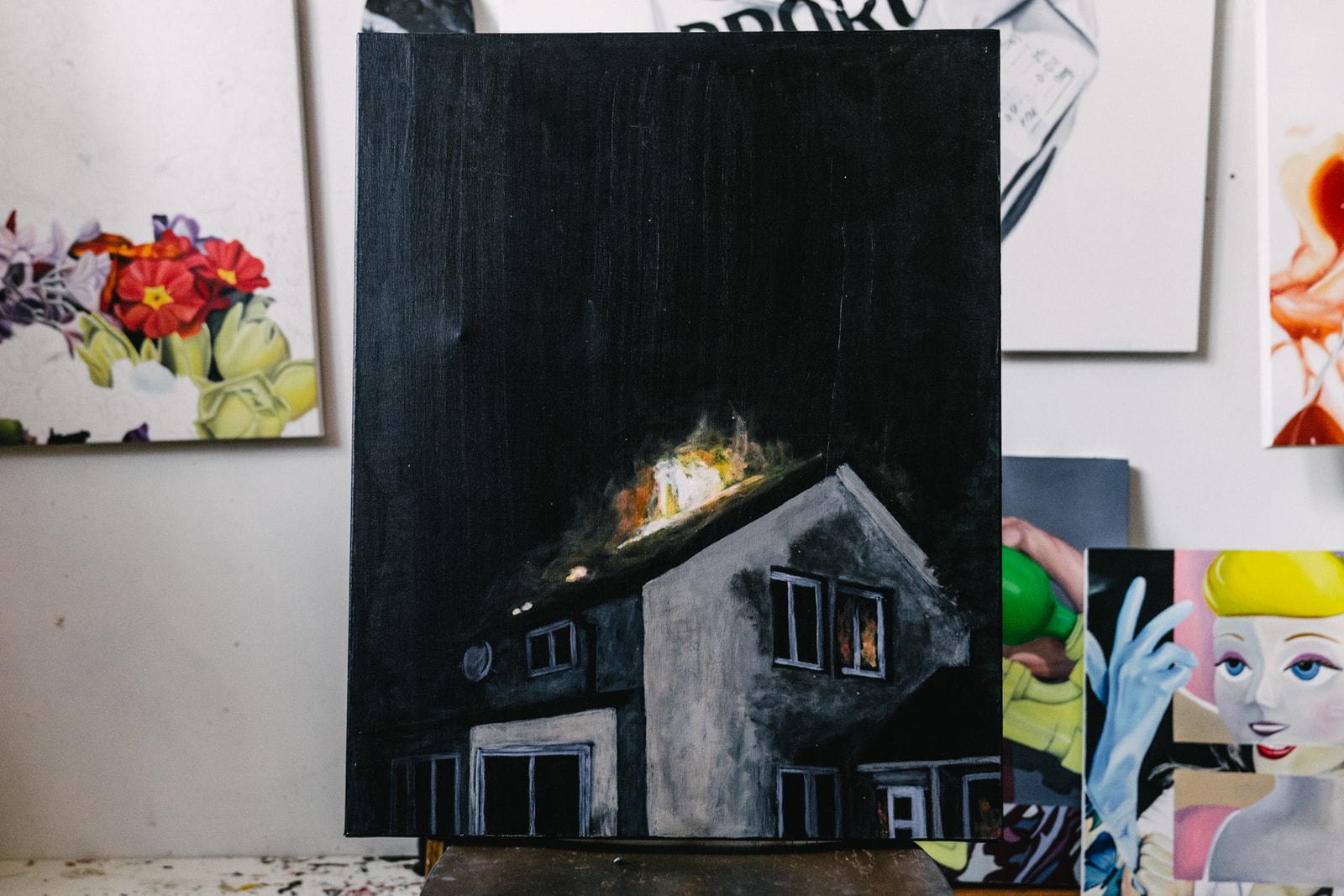 "Painting is super solitary by nature, if you're just holed up working, you go crazy."How do you break out of a creative rut?
It's hard to say exactly…any time you get in a creative rut it can take a while to realize things aren't really clicking. That's a frustrating feeling when everything is just off and the best bet is usually stepping away, changing your scenery or whatever. New York is great for getting you out of that because as cliché as it is, just walking around town and seeing the insane amount of everything helps to get ideas going. In a perfect world you can actually get out-of-town and mix things up but I rarely seem able to do that.
I'm also never not working on something, so when I get burned out on one idea I'll switch my focus to something else. Painting is super solitary by nature, if you're just holed up working, you go crazy. You need to make time to see friends, go to the gym or something, not eat like shit 24/7, it makes a difference.
What projects are you currently working on now?I've been planning out a show for either the end of this year or the start of next year, feeling out what I can do with the space, etc. I'm really into the idea of exploring the barriers of how we connect with each other, how certain ideas and objects come and go. I want to do a few more large-scale pieces and I have an interactive component I'm working on as well.
Source: Hypebeast
https://www.fuel.com.gr/wp/wp-content/uploads/2018/09/https_2F2Fhypebeast.com2Fimage2F20182F092Fpen-and-paper-james-evans-interview-7.jpg
727
1090
FUEL
https://www.fuel.com.gr/wp/wp-content/uploads/2018/02/Fuel-01.png
FUEL
2018-09-12 10:19:21
2018-09-10 19:24:16
PEN & PAPER: JAMES EVANS